Pregnancy Is Not The Time To "PAUSE"
Your life is NOT on hold mama….
Just because you are pregnant, doesn't mean that you have to wait 9 months to work on you.
So often I hear pregnant women say….
"I can't wait til this is over"
"When I'm not pregnant anymore, I'm going to XYZ"
"I'm going to start working out after I have this baby"
Mama, you don't have to put your goals, your aspirations, your desires on hold just because you're pregnant.
Actually, if you do, you will probably regret it.
Here's the mindset that I want to switch for pregnant women:
"I'm pregnant and so I have an excuse to gain weight. I am not going to be active and I'm just gonna be pregnant because for the first time I have an excuse".
"I felt terrible at the beginning of pregnancy and I haven't done anything and now that I gained too much weight, its too late to do anything".
"I'll do something after I have this baby".
Here's what I have found from 15 years of working with over 200,000 pregnant women…
Those that do pause, and put themselves on hold during pregnancy, end up regretting it.
Here's the good news and what I want to encourage you with today.
There is SO much you can do while pregnant.

It's possible to slow the weight gain.
It's possible to lean out and tone up (yes even while belly grows).
It's possible to reduce and even get rid of aches and pains.
It's possible to walk around feeling more comfortable.
It's possible to have more energy.
It's possible to lose your baby weight super duper fast.
I always say that even if you didn't workout a lot or "eat healthy" before being pregnant, that pregnancy IS THE BEST TIME to start doing so.
Because it's not only about you… it now affects the baby as well and the benefits for you both are ENDLESS.
There are so many old wives tales that say women shouldn't workout while pregnant, or that it isn't safe.
That is so far from the truth and such an old school mentality.
I remember people at the gym asking me…. "are you sure you're supposed to do that"… as I did step ups holding 15 lb weights, or as I squated or did leg extensions with 80 lbs.
I remember telling them "I'm pregnant, not ill or injured."
Yes, pregnancy is DANG HARD.
But don't let that stop you from practicing some self care this pregnancy. From doing things RIGHT NOW that will help you SO MUCH after you have the baby.
The aches and pains are hard, the weight gain is hard, the sleepless nights are hard.
But all of can get better RIGHT NOW if you start practicing some SELF CARE… RIGHT NOW.
So if you have been stalling…. waiting for the weeks and months to pass by to start working on "you" after baby is here…
I want to encourage you to WAIT NO MORE!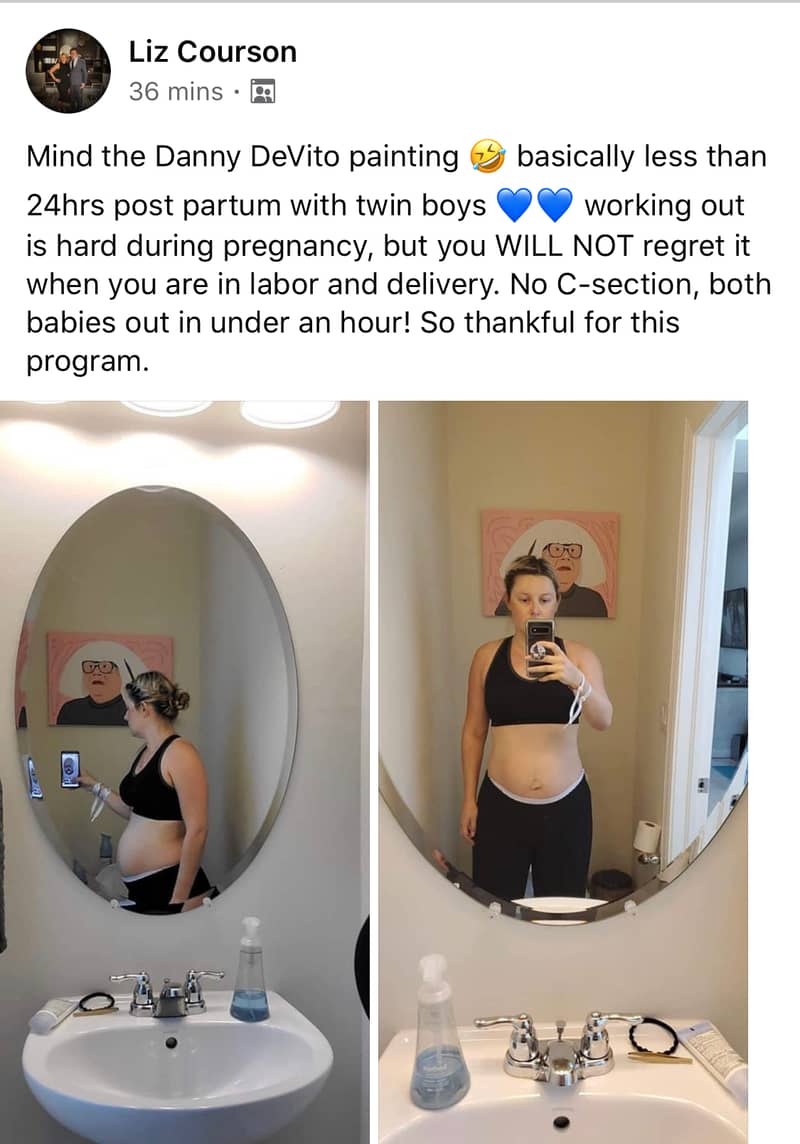 It will just be harder and harder with a newborn or another child to practice that self care.
So get your spirits up mama.
Set some new goals.
This is not the time to let yourself go… This is the time to make your health and fitness a priority.
What you do right now marks how easy or hard it will be later on.
I hope you are feeling encouraged.
Please… pretty please, don't beat yourself up for not doing anything before.
This message is not supposed to make you feel guilty.
Just acknowledge and then move forward.
IT IS LITERALLY NEVER TOO LATE.
Reply back to this email and let me know what mind set has been stopping you that you are breaking today… and what you plan to do about it.
The best is yet to come, my friend.
---
If you are excited and seeing the opportunity that you have of making positive strides while pregnant and you would like some help and support, I would love to have you in the Fit Mom To Be Program.
The workout program is amazing, the meal plan complements it so nicely and our community is like no other.
Don't do pregnancy alone!
Let us support you and get some inspo from other mamas that are going through the same things you are.
Click here to join Fit Mom To Be