Healthy Pancakes For Your Pregnancy Diet
Getting a healthy breakfast in during pregnancy can be really tough.
For the most part, women wake up feeling sick, nauseous or are just super tired and busy…
And the last thing on their mind is BREAKFAST.
Even though it should be the #1 thing when waking up.
Starting the day with a good breakfast will:
Give you energy.
Help you not feel sick and nauseous (happens from stomach emptying and fasting while sleeping all night.)
Helps prevent cravings later on.
Starts off metabolism so you can burn the excess fat.
How about some chocolate chip pancakes that are good for you and baby?
I love chocolate chip anything and this recipe is the best, not just because its delicious, but because you can make them in 30 seconds.
​
Ok, these aren't regular pancakes.
This is one of my classic, most popular recipes with a spin.
​And one thing I love about these, is that you can pre-make this one day and then heat them up for 30 seconds on any day and have an amazingly delicious and healthy breakfast to start your day and give your baby the nutrients it needs.
The other amazing thing about these pancakes is that they are LOADED WITH PROTEIN.
And I hope you know how important protein is for you while pregnant.
Which is why these pancakes… or pancake casserole lol, has eggs and also protein powder which also adds probiotics and vitamins. DOUBLE WAMMY!
Protein is incredibly important for your baby. Protein helps the development and growth of your baby's tissues and organs.It's also in charge of taking blood supply to the fetus. So, though its sometimes really hard to get protein in because of aversions, nausea or just having cravings for carbs only… It's very important you get enough protein in.
NOW more than ever.
Which is why it is a huge life saver to have mPower, a PROTEIN POWDER that is specifically formulated for pregnancy. And that doctors are now not only approving it as safe but also recommending it because they understand how important it is for pregnant women to get enough protein in.
mPower is not only the BEST TASTING protein powder out there with no after taste, doesn't clump and is so silky smooth… But it also counts as your prenatal and has FOLATE and probiotics. It's not just a protein powder, it is the best ALL-IN-ONE protein supplement for pregnant women.
I know its tough to eat so much chicken and turkey and fish and eggs.. especially during pregnancy. But being able to have a delicious protein shake or protein smoothie that you can even add so many more healthy and nutritious ingredients is literally gonna be a life changer for you. And it will totally help you crush your cravings so you can eat healthier and gain less excess weight.You are gonna love mPower, legit, the YUMMIEST protein powder you have ever tried.
Get your mPower Protein Powder for Pregnancy, click here.
I love these pancakes, but my kids…. OBSESSED.
They have to have them every.single.week.
And I won't lie…. its a bit of a pain.
​
I love making muffins, cookies, casseroles, etc…
But pancakes… the only issue is "slaving" over the stove top.
​
So one day, I decided to make my favorite healthy pancake batter and instead of cook it like pancakes on the stove, I poured the batter into a casserole dish and baked it.
​
OMMMMMGGGGGG!
​
It is so good, and literally takes 30 seconds to make the whole thing.
Now this batter is super versatile.
I made it with chocolate chips but you can do:
Nuts
Shredded coconut
Pumpkin
Fruit
Or a combo of any of the above
Print
🥞BeFit Chocolate Chip Pancake Casserole🥞
---
3 whole eggs + 6 egg whites
2 tsp vanilla extract
1 banana
3/4 cup cottage cheese (you can use pumpkin here or applesauce)
1 1/2 cups oatmeal
2 scoops mPower Protein Powder​
3 Stevia packets (or any sweetener: Monk Fruit extract, coconut sugar, brown sugar, agave)
Cinnamon to taste
1/3 cup chocolate chips
---
Instructions
Preheat the oven to 350 degrees.
In a food processor or blender, process all the ingredients except the chocolate chips until smooth.
Grease an 8×11 baking dish with coconut oil or olive oil (can be spray)
Fold in the chocolate chips or whatever flavor you are doing.
Bake for ~20 minutes or until done.
---
​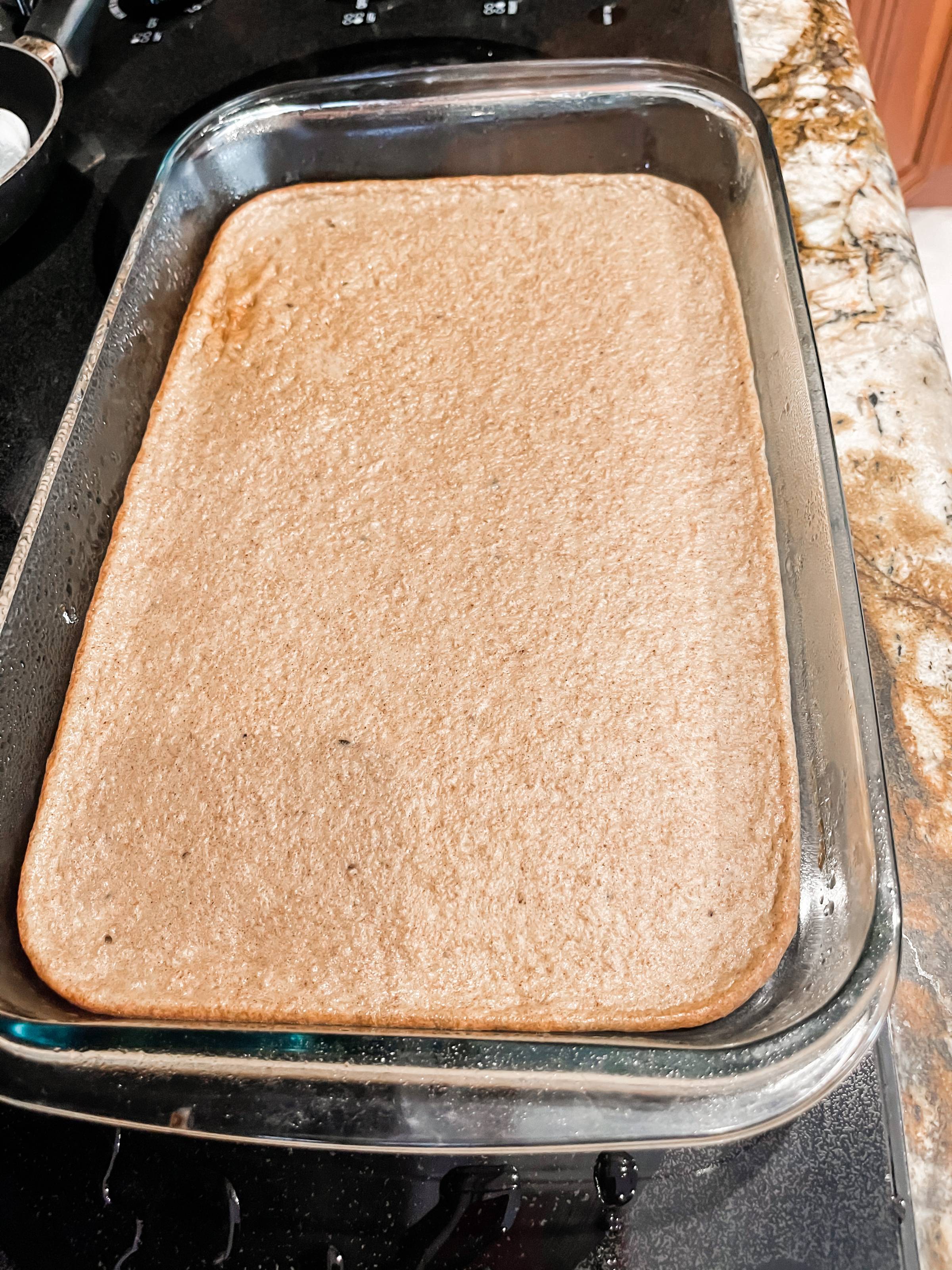 So easy… so good:)
​
I hope you try it… Its delicious.
And its gonna be a great addition in your pregnancy diet.
It will be a quick and easy way of starting the day with a healthy breakfast without work or having to think about it.
My kids love it and its the easiest and fastest and tastiest breakfast.
And the fact that its so high in protein, makes this also a breakfast that makes you feel full and will hold you over to the next meal.
​
I actually also love to have a piece with coffee for a snack in the afternoon, so feel free to have it as a snack as well.
​
If you make it, snap a picture and post it and tag me, I would love to see it and see what flavors you add if any other than chocolate chips.
Its a good recipe to just play around with and make it a different flavor every week.
Here's a video for more pregnancy nutriton tips.
​
Enjoy!
​
XOXO,
Michelle Marie