Coffee Cake Banana Protein Bread
Snacks like this help me eat SO MUCH cleaner.
Let me explain….
There was a time when I thought that to lose weight… and be defined, toned and in shape…. I had to EAT LESS.
So in an attempt to eat less, I would try to go as many hours as I could without eating.
I would eat breakfast, lunch and dinner.
The hardest part for me was always in between lunch and dinner.
I'd definitely get hungry but I would wait as long as I could until dinner.
My kids of course always have a snack between lunch and dinner.
But what I would end up doing is snacking and picking at my kids snacks and still grazing at stuff from the fridge, etc because I was hungry.
So in my attempt to "not eat", I was eating more calories and BAD calories.
Trying not to eat is such a silly mistake and a HUGE misconception.
See, we have this thing called METABOLISM.
If you have a fast metabolism, your body is really good at using the food you consume and burning and using it for fuel… for energy.
Theres 3 ways to speed metabolism.
Eat often
Eat foods that are thermic (make your body burn a lot of energy) (PROTEIN is the highest thermic)
Muscle: it is metabolically active tissue and having more muscle helps you burn more fat and more effectively.
As you see…. if you want to be able to BURN MORE FAT and have a faster metabolism... you need to eat not starve yourself.
I am happy to say that I am RECOVERED "Try not to eater".
I now eat 5-6 small meals a day.
And instead of avoiding eating, when its in between meals, I sit down and eat a snack as if it was a meal.
This is why I am always baking.
These little snacks are my life savers.
They are healthy, delicious and because I pre-make them, its easy to just grab even when I'm busy or on the go with the kids.
I literally never start the week without having a batch or two of muffins or cookies or bars or pancakes or something that I know I can use for snacks.
I also love that I don't feel deprived.
Most of these recipes feel like a major indulgence or treat and it totally crushes my cravings for other swee things or bad choices so it also helps me eat cleaner.
Today, I want to share this Coffee Cake Banana Protein Bread I made for my girls night book study. Luckily I have left over for the rest of the week.
We did though have some wine last night as well so today I will eat a little less carbs.
We were celebrating no more zoom book studies and back to in person.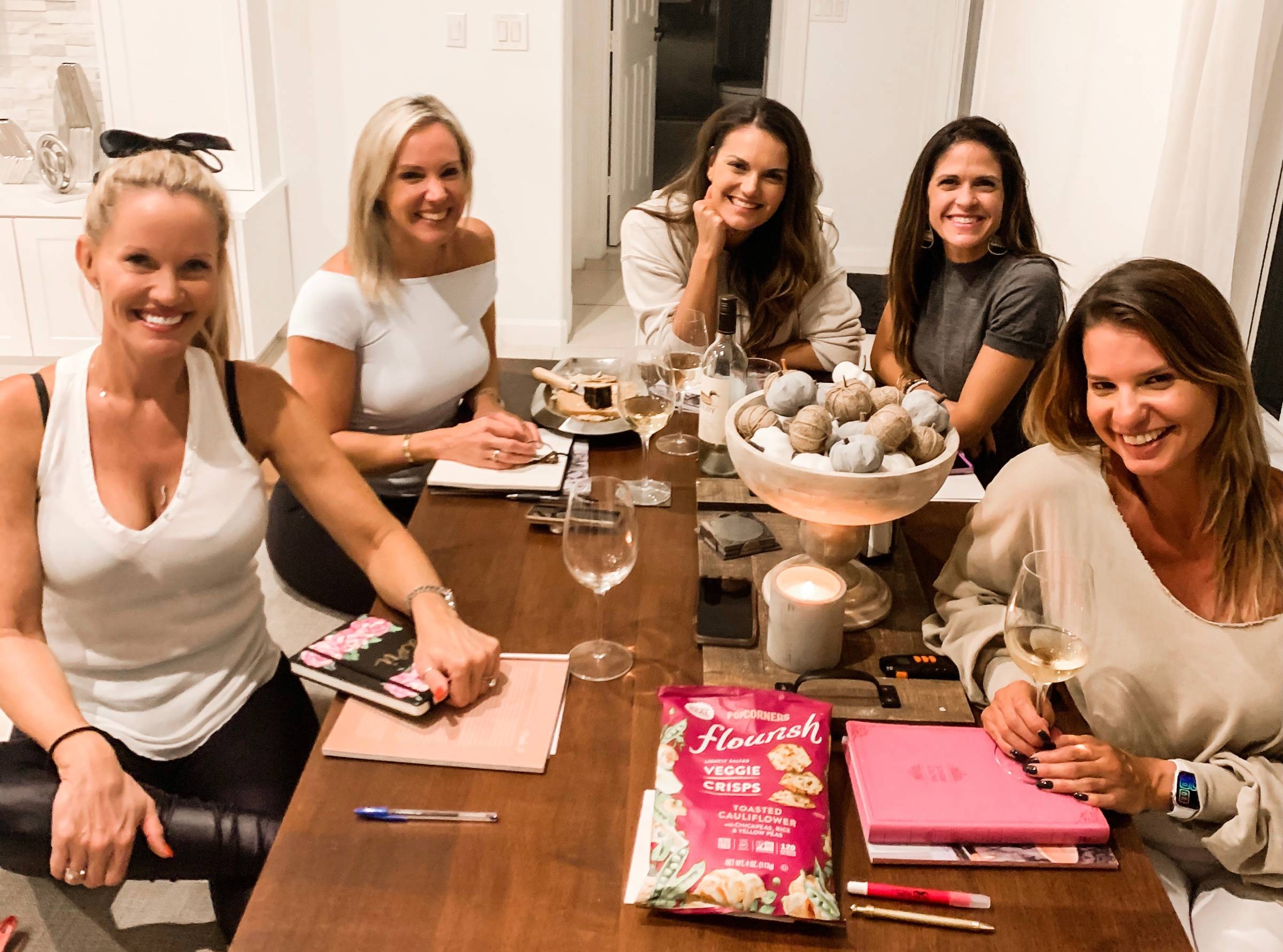 We meet every 2 weeks and do devotionals, Christian books, bible studies etc.
Its the best.
By the way. Carb cycling is amazing. I don't like to cut food groups but I do cycle them. If you would like for me to blog or email or video about carb cycling, LEAVE A COMMENT BELOW and let me know if you want to learn about it and if you rather a blog, an email or a video or a combo.
Ok, heres the recipe, I used mPower Protein Powder to make it more thermic, more filling and more of a complete meal.
If you haven't gotten mPower yet… giiirrllll, you are missing out.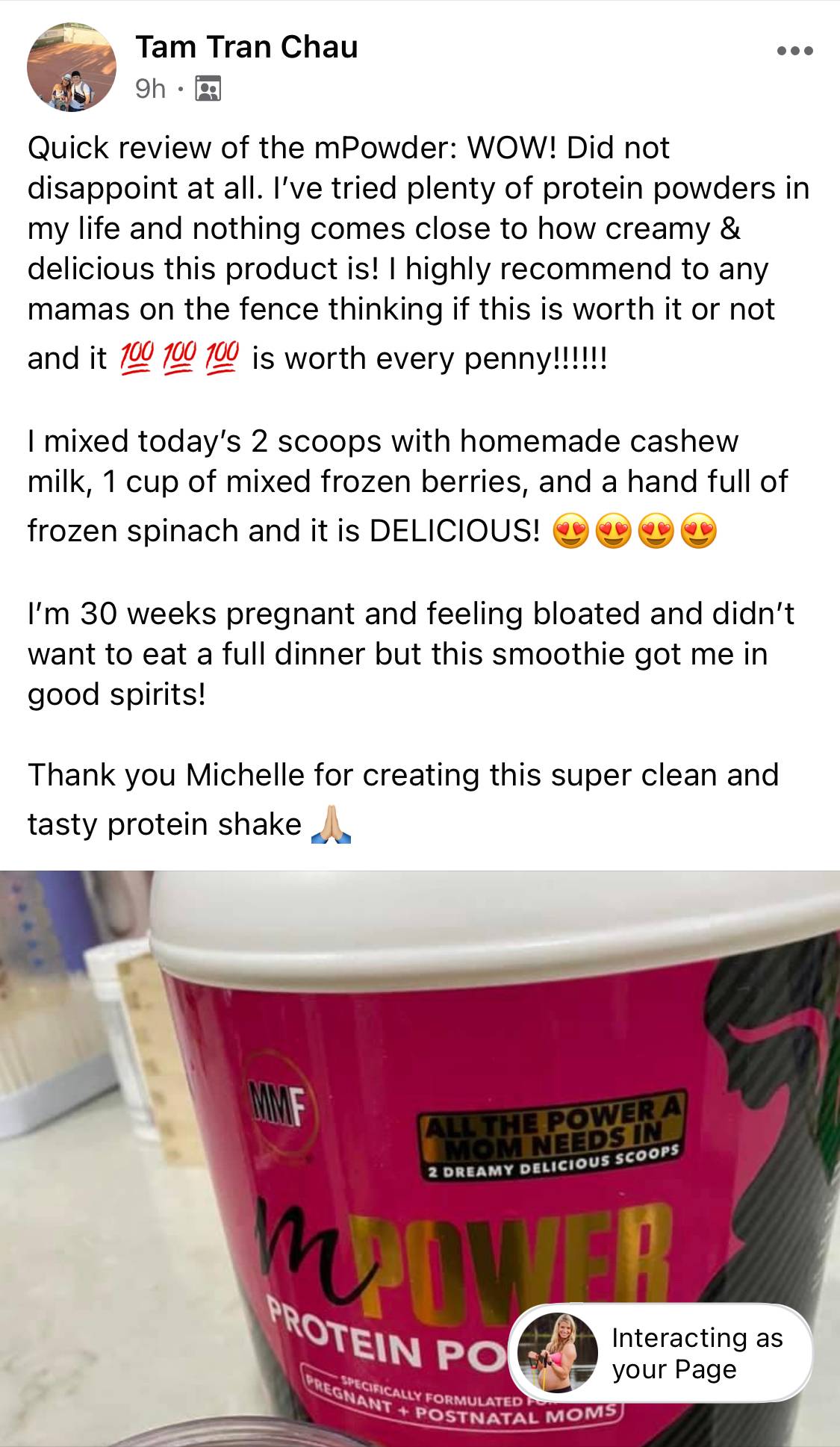 It is insanely delicious and crazy good for you.
Most ladies say this is the best protein powder they've ever had.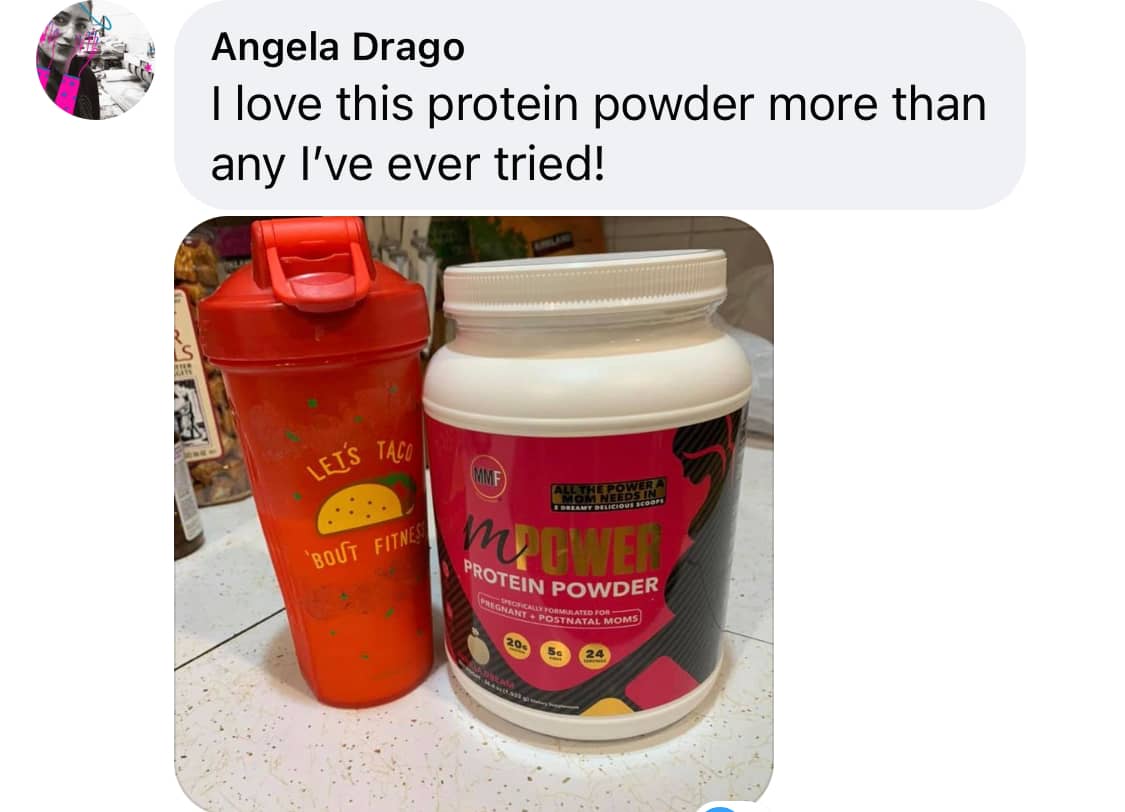 MMF Coffee Cake Banana Protein Bread
Print
Coffee Cake Banana Protein Bread
---
---
3 very ripe bananas, mashed
1 tsp maple extract
1 tsp vanilla extract
3 eggs
1/2 cup almond butter
1/4 cup coconut flour
2 scoops mPower Vanilla Protein Powder​
1/2 tsp baking soda
1/2 tsp baking powder
1 tsp cinnamon
1/3 cup chocolate chips (I use dairy free)
Topping:
4 tbsp coconut oil (room temp)
2 tbsp coconut or brown sugar
2 tbsp almond flour
1 tsp cinnamon
1/4 cup chopped pecans
---
Instructions
Preheat the oven to 350 degrees and grease a loaf pan.
In a bowl, mix all the wet ingredients and mix well.
Add in all the dry ingredients and mix well.
Fold in the chocolate chips.
Pour the batter into the loaf pan.
In a small bowl, mix all the topping ingredients and spread over the batter.
Bake for ~ 45 minutes or until done.
---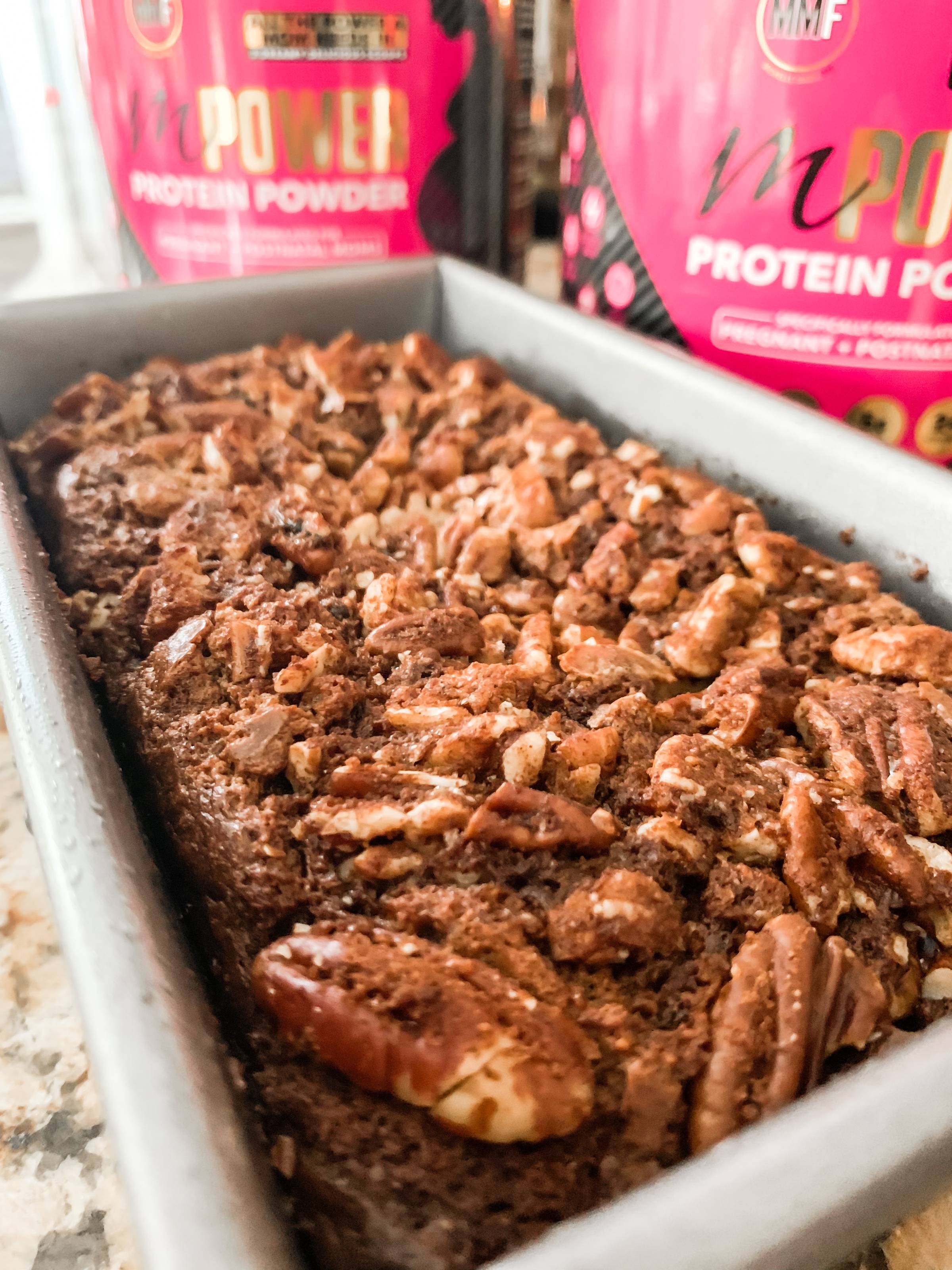 Ok, I hope you try this and if you do, snap a pic and post it and tag me so I can see it.
I hope you are a bit less afraid to eat.
Eating isn't the enemy…. its not knowing what to eat, how to combine the food and finding a way of eating that is realistic that is the hard part.
It's a lot of trial and error but you will find the way and when you can really stick to you…. you will see amazing changes and results in your body.
Enjoy!
XOXO,
Michelle Marie
P.S. We went on back order of mPower over the weekend. Which is bad news for the 200 ladies that ordered in the last few days as it took longer than usual to ship, but so amazing that in just 6 weeks we sold out. It makes me so happy to know you ladies are loving it so much. Its exactly all I was dreaming it would be for you.
So if you haven't gotten it yet… I would do so now before we go on backorder again.